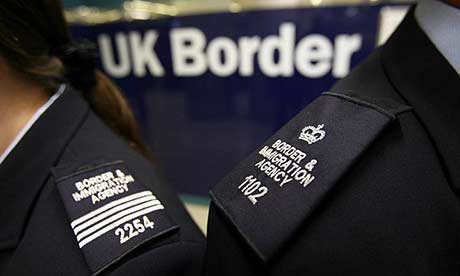 When journalists try to find out the true picture of asylum in the UK, the government's secrecy shutters keep coming down
By Matthew Taylor
Another week, another glimpse into the twilight world inhabited by asylum seekers. The latest report offers a grim portrayal of lives lived truly on the edge – where people who came to the UK in search of safety are forced to choose a between a semi existence of grinding poverty and a return to their home countries where they risk persecution, torture or even death.
Shocking though the latest findings are, anyone who has followed the issue of asylum in the UK will not be surprised. Study follows study, one set of findings paints the same picture as the last, and the message is always the same – the system, and those caught up in it, are in trouble.
But when journalists try to find out the extent of the trouble – and, crucially, who is responsible – the government's secrecy shutters come down.
At the end of last year I sent a series of requests to the UK Border Agency under freedom of information legislation. Among the things I wanted to know was how much taxpayers' money had been paid out in compensation to people – migrants and asylum seekers – held in the UK's 10 detention centres in relation to allegations of assault and unlawful detention. This was not a speculative punt: there have been repeated allegations of physical and verbal abuse against detainees and, according to lawyers working in the area, compensation payments are regularly paid by the government and the private contractors that manage the centres – often before cases get to court. I also wanted to know how many children had been locked up in these centres, and how many of them were there without family or friends.
The FOI legislation introduced in 2005 requires 100,000 public authorities, including Whitehall departments, to respond promptly to requests for information and, subject to some exceptions, to give it up. But some weeks later I recieved a curt response to say all my requests had been denied. I was told that in some cases the government did not hold the information and in others that it would be too expensive to collate. Undeterred, MP Diane Abbott took up the case, drafting a range of parliamentary questions to the Home Office minister Phil Woolas, again asking how much compensation had been paid over to detainees – this time over a precise 12-month period – and how many children have been held in detentions centres.
We waited. And waited. And then Woolas responded: "The information requested is not collected centrally and could be obtained only through examination of individual records at disproportionate cost."
So according to the government that's that. Hundreds of thousands of people (again we don't know how many) who came here to find safety are living in destitution. The courts are ruling in favour of an unknown number who claim they have been victims of state-backed abuse and unlawful detention. The government and private security firms are reportedly paying out undisclosed amounts of taxpayers money to compensate these people – including children. But because the "information is not collated centrally" and would be too expensive to dig out, we should all just shrug our shoulders, accept the government knows best and move on.